Rahul Dravid the legendary batter has shown the witty and funny side of his personality as well which has often left the media room bursting into laughter. On Saturday when he was asked to compare the bowling line-ups of the India and Pakistan his response was hilarious.
On Friday, Pakistan's bowlers were able to hold Hong Kong to just 38 while recording their largest T20I victory and securing their spot in the Asia Cup's Super 4 round. On the other hand, Indian bowlers had secured their qualifying the day before by taking five wickets for 152 runs against the same team.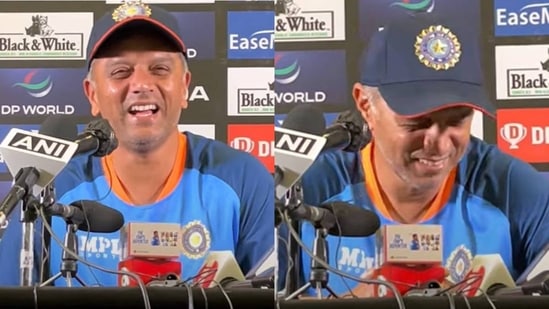 Before the two teams' Super 4 match on Sunday in Dubai, a reporter inquired about the bowling lineups of the two teams. Before he said something humorous, Dravid praised the Pakistani attack but acknowledged that his team had also managed to put on a "very nice" performance in the Asia Cup.
"Theek he, unke bowlers ne bhi aachi bowling ki thi. They are a very good bowling side. But even we bowled well to restrict them to 147. No matter what score you restrict an opposition to, numbers might be different, but at the end of the day, bowling analysis is important. You are judged by the results you produce. And bowling analysis of our fast bowlers was also pretty good. I certainly respect their (Pakistan) bowling but I am confident that we have a very good bowling attack as well which produces results," he said.
"It might not be as...I wanted to use a word but I can't use that word. It's coming out of my mind but I can't use it here," he added as the entire room burst into laughter.
In an effort to assist Dravid, another journalist inquired as to whether the word was "exuberant." Not boisterous, the former India batsman swiftly retorted. It has four letters and the letter "s" at the beginning.
Avesh Khan, an India bowler who is ill and is not expected to play in the match on Sunday, also received an update from Dravid.
Avesh is feeling a little under the weather and has a slight fever. Doctors are taking care of the situation, and he is not practising today. Hopefully, the illness is not too serious and he will be fine for tomorrow's game (against Pakistan); if not, the tournament will continue later, according to Dravid.