If not entirely, India's recent five-match series against South Africa at home has provided some insight into their final 15 for the T20 World Cup in 2022. And while India head coach Rahul Dravid has not yet finalised his World Cup roster, legends and industry veterans have already started to evaluate the Indian team and their potential roster. Graeme Smith, a former South Africa captain who travelled to India for the entirety of the T20I match, chose two players from the India roster on Tuesday who could not be dropped.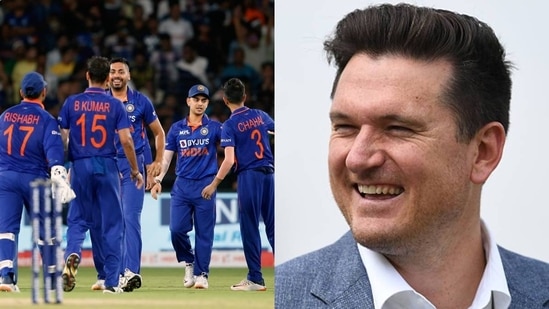 The South African legend was in awe of Dinesh Karthik and Hardik Pandya for rejoining the Indian team after lengthy absences. Due to his recovery from a back injury, India's star all-rounder had missed every game since the 2021 T20 World Cup. However, Karthik, who had last played for India in the 2019 World Cup, forced his way back into the conversation with an outstanding performance in the IPL 2022.
Hardik scored 117 runs in four innings with a strike rate of 153.9. In the series, he also bowled five over, but without picking up a wicket. Karthik, on the other hand, scored a half-century and smashed 92 runs in four innings at a mind-blowing strike rate of 158.6.
Speaking to cricket.com a day after the T20I series, Smith picked Hardik and Karthik as the two undroppable players for the big event in Australia later this year.
"Still a lot of cricket to be played so it is difficult to predict what is going to happen in the next couple of months but you are going to think Hardik and DK are integral to that squad. DK is experienced with that finishing role that he has played Hardik has grown leaps and bounds and is in control of his game. Mentally he looks like he has settled. And he is also that all-rounder X Factor that India require to just balance the team with him and Jadeja in the squad which opens up a lot of options. So I can't see that those two not making it to the World Cup squad," he said.
India will next play a two-match series against Ireland later this month before taking on England and West Indies in the format, respectively.