Virat Kohli, who scored just 11 runs in the first innings of the fifth Test against England sledged Jonny Bairstow, who was struggling against the Indian bowlers in the ongoing fifth Test between India and England at the Edgbaston Cricket Ground.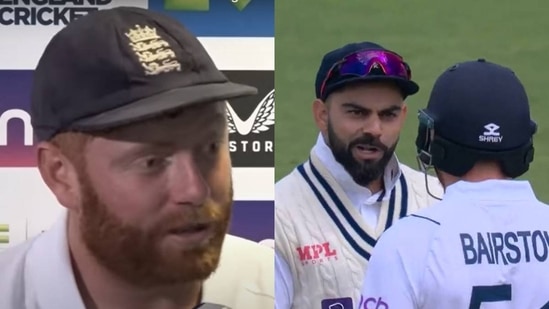 One thing which took grabbed limelight was the on-field spat between Bairstow and Virat Kohli. The video of this clash start rounding the social media where England batter responded in epic fashion when asked "Did Kohli poke the bear" question.
However, while Kohli might have done it to rattle Bairstow, the latter kept focus on his batting and eventually reached his third-straight triple-figure mark in Test cricket, scoring a knock of 106 runs that helped England avoid follow-on.
Later to that Sehwag had taken to Twitter to highlight the change in gears in his batting post the incident. "Jonny Bairstow's Strike Rate before Kohli's Sledging -: 21; Post Sledging - 150," he wrote while lashing out at Kohli for sledging the batter.
On-field umpires, Aleen Dar and Richard Kettleborough were forced to intervene and calm the situation down.
However, Bairstow brushed aside any differences between the two, saying there was "literally nothing" and rather joked saying, "Refused to invite him for dinner."
"As I mentioned earlier, there was literally nothing. We've been fortunate to play against each other for ten years. So, I'm pretty sure we'll be able to have dinner. Don't worry about it," he further added.