India is the home to many sports but unfortunately cricket is one such sport that captures all the imaginations of the Indian citizen. Cricket is their religion and cricketers are their gods for their crazy fans.
People love to watch their favourite game from home many go to the stadium to catch up on the glimpse of their favourite stars as India has thousands of stadium across the country and millions of cricketers play the game in a different division and leagues of the country.
Ahead of the game Indian fans finished off their jobs to avoid any unnecessary situations that force him to miss the match on TV.
With the magnitude of the sports, the intensity level also goes up as a whole. The busy congested roads look deserted when India took Sri Lanka in 2011 World Cup final is a testimony to this statement and proves the importance the Indian attributes to the game of cricket.
Cricket- way to life
Even when India is not playing any matches thousands of newspaper in English, Hindi and many locals dailies and websites feed them with the personal news of cricketers and Indian cricket.
India "eat, sleep, work"-this phrase holds true for the Indians as they start their day opening the last page of the newspaper where sports news publishes or scroll cricket news on the website on mobile waking up in the early morning.
Fans love wearing T-shirt in the blue colour of Indian jersey and print their favourite cricketers on their T-shirt.
Indians follow Men in Blue everywhere in the world
Indians are the most ardent followers of their cricket team. It doesn't a matter how small the match is, you will find every ground full when India is playing. At the same time, Men in Blue goes beyond the geographical boundaries.
During the India-Pakistan and India-South Africa 2015 world cup, the jam-packed stadium of Adelaide Oval and Melbourne cricket proved their love for the game.
Loud cheers for the their Team
Stadiums like in Eden Gardens where audience are vocal and scream on top of their voices at the fall of every opposition wicket and cheer for every six and fours.
Pin-drop silence spreads when opposition is on top. Yet, the fans chant (Jitega Vai Jitega, India jetega' and 'Vandematram'while India was closing in on victory during the 2011 World Cup final at the Wankhede and more recently against Pakistan at the Eden Gardens in the T20 World Cup is sure to give everyone goosebumps every time one hears it. Loud cheers for team India is outstanding.
Have Respect for great opposition players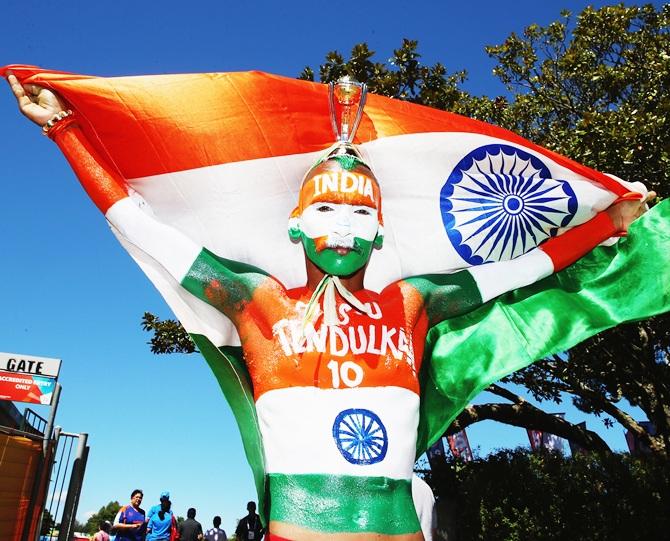 India has a long tradition of loving and cherishing opposition players like they always appreciates Wasim Akram, though he took more than 40 wickets against India, for his charm and outstanding bowling skills that mesmerised everyone one. Wasim also belongs to India's arch-rival Pakistan but Indian fans love him a lot even after his retirement.
Indians also cheerd for AB de Villiers even when India is playing against South Africa. In 2015 December South Africa set a 400 plus total in an ODI de Villiers at the Wankhede fans cheered him a lot though he was battering Indian bowlers.
Indian fans are never biased and they love almost every great cricketer and great cricketers also paid back Indian fans with great innings.